September 8, 2018 [Downtown Las Vegas ]
Downtown Las Vegas [Event Center]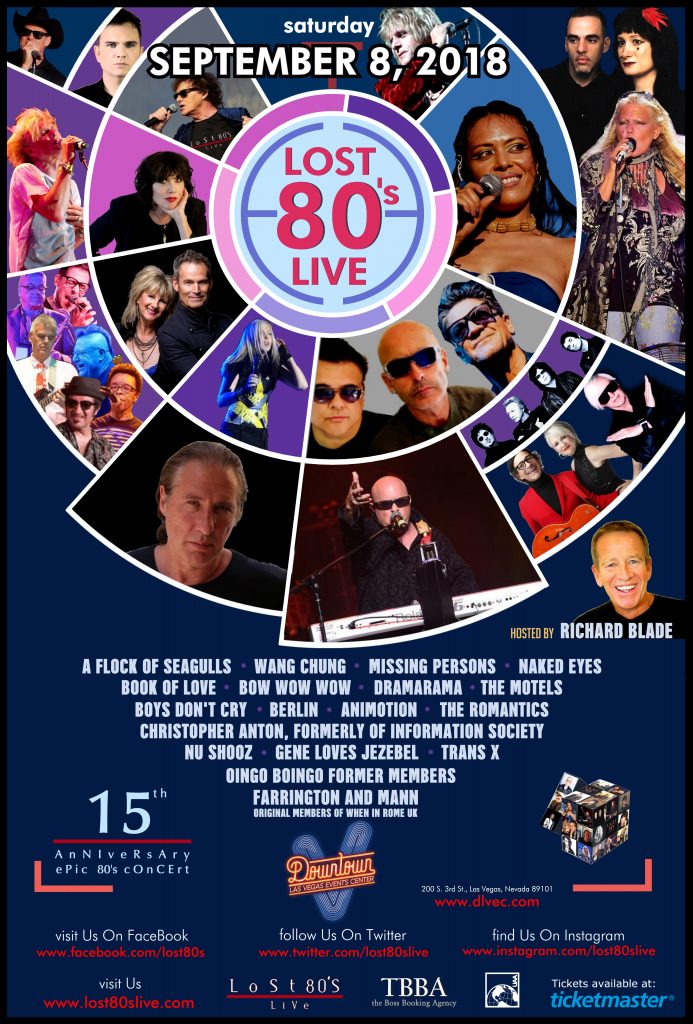 Event info
| | |
| --- | --- |
| Date: | September 8, 2018 |
| Location: | Downtown Las Vegas |
| Address: | 200 S. 3rd St. Las Vegas Nevada |

Lost 80's Live returns to SIN CITY for our 15th Anniversary Concert Saturday September 8th, 2018 at the Downtown Las Vegas [Event Center] Hosted By Richard Blade of KROQ fame and Sirius XM 1st Wave!  Dig out your Leg warmers, Breakout your Day-Glo socks and Master that Rubiks cube, it's The Biggest 80's Lineup, The Biggest 80's Concert to ever hit Las Vegas, NV  Lost 80's Live totally awesome 15th Anniversary concert! 18 awesome bands, all on one stage, on one Epic night. Iit's your ultimate 80's play list  Featuring:
A FLOCK OF SEAGULLS
WANG CHUNG
ANIMOTION
FARRINGTON AND MANN,
original members of WHEN IN ROME UK
BERLIN
NAKED EYES
THE ROMANTICS
MISSING PERSONS
THE MOTELS
NU SHOOZ
BOOK OF LOVE
BOW WOW WOW
DRAMARAMA
GENE LOVES JEZEBEL
BOYS DON'T CRY
TRANS X
CHRISTOPHER ANTON
formerly of INFORMATION SOCIETY
OINGO BOINGO FORMER MEMBERS
a limited amount of VIP artist Meet and Greet tickets will
be available for this event.